What is Raidió Rí-Rá?
Raidió Rí-Rá is a chart-music station that broadcasts completely through Irish. We play all the hits from the charts and we have the latest pop, sports and movie news. You can listen to Raidió Rí-Rá 24/7 online atwww.rrr.ie, on DAB or you can download our app for free.
What is the Raidió Rí-Rá Roadshow?
The Raidió Rí-Rá roadshow gives students the opportunity to learn and practise radio skills. Students will prepare and record radio shows. The best of the radio shows will be aired on Raidió Rí-Rá or will be made available on our websitewww.rrr.ie
When?
The Raidió Rí-Rá workshops will be open to all secondary schools for the academic year 2019/2020. The workshop lasts 90 minutes. All that we need is a quiet room in your school. If you want to book two workshops, one workshop can be organised before lunch agus the second workshop can be organised for after lunch, depending on the school timetable.
How many students?
Up to 15 students can attend the workshop.Places are limiteds as there is a emphasis on practical work.
What Language?
The Raidió Rí-Rá workshop can be organised completely through Irish or bilingually, depending on the students' level of Irish. All recording will be done through Irish.
Cost?
There is a subscription fee of €100 / £80 to organise the workshop in your school (15 students, 90 minutes). There is a subscription fee of €150 / £125 to organise two workshops in your school (30 students, 3 hours). This cost cover the cost of workshops and travel costs.
Schedule
45 minutes – Prepare radio show, practise & recording
45 minutes – Prepare radio voxpops, interviews & recording
90 minutes in total
You can contact us at This email address is being protected from spambots. You need JavaScript enabled to view it. or +353 (0)1 4757401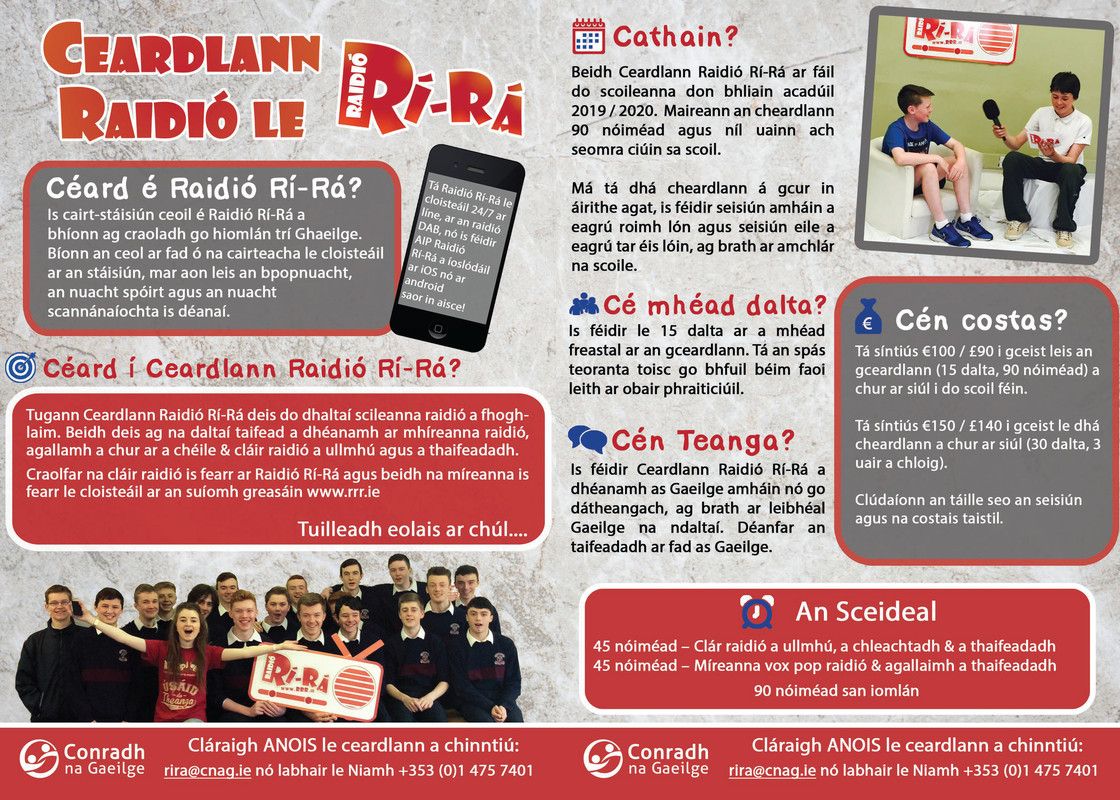 Click on the image below to download the information booklet for yourself.